Dear TFS Community, The unofficial results from yesterday's election are in. We were honored to have two quality candidates for our Board of Trustees and welcome Christian Potts back on our Board. We sincerely thank Emily Kennedy for her time and interest in the TFS. The general mill levy for both the elementary and the high school did not pass with approximately 37% in favor and 63% voting against. We are naturally disappointed with the levy election results, as these funds would have greatly impacted our district's ability to provide needed resources and services for our students and staff. It is clear that strong communities provide for strong schools and we are fortunate in Three Forks to have a caring and involved community. The district understands that the current uncertainty with our national economy has created challenges for everyone and greatly appreciate the support of those who voted in this election. The TFS will continue to work hard to honor our taxpayers through responsible stewardship of taxpayer dollars. Our continuing goal is to provide the highest quality of education for our students, as these children are the future of Montana and it's communities. On behalf of the Three Forks Schools, I want to sincerely thank those who voted in support of our schools. Dr Rhonda Uthlaut Superintendent Three Forks Schools

The FFA students have been working hard to build items for our first FFA Silent Auction. Please come support them, May 5. Auction and desert from 6-7 and then FFA awards ceremony following. Please join us for a fun night.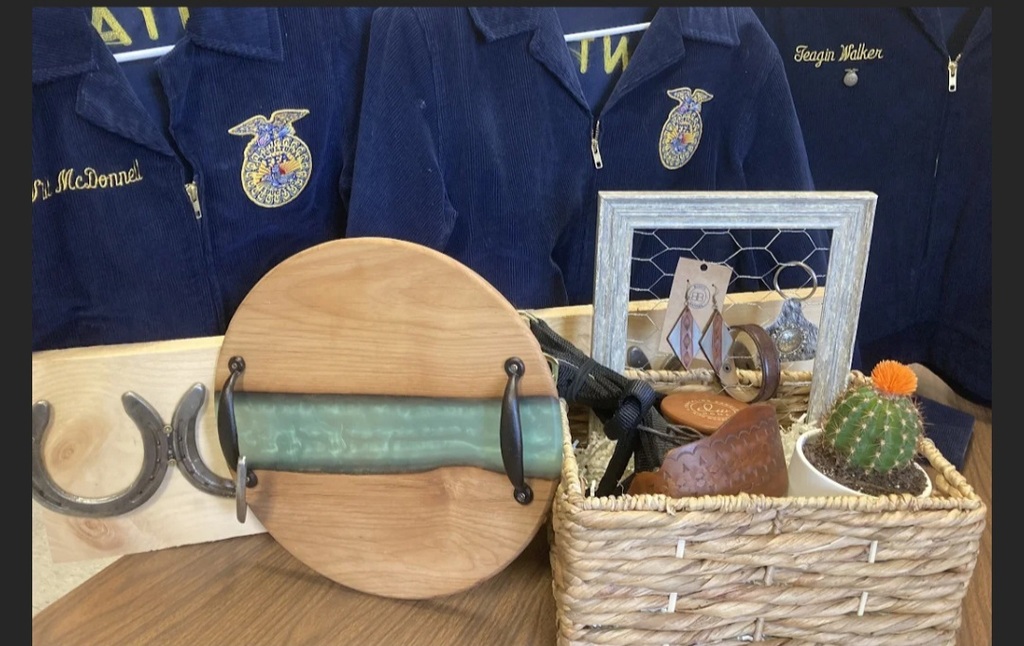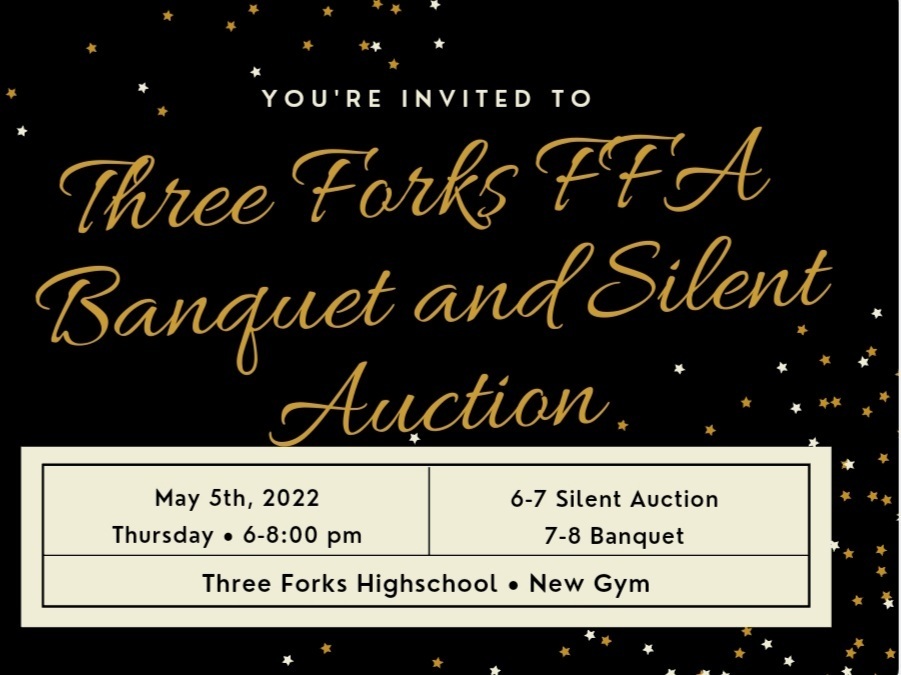 The Junior High track meet that was scheduled to take place in Townsend this afternoon has been moved to East Helena. The track meet is still scheduled to take place today with a start time of 3:15. Please call the high school office if you have questions. Thanks

TO THOSE ATTENDING PROM: Students will NOT be allowed to leave prom and then return. If students leave BEFORE 10:30 PM, parents/guardians will be notified. We can't wait to see everyone at the Grand March tomorrow @ 8 PM!
Going to share two things with facebook world. See you at NLC Pretty Awesome news for this week. Congratulations! Your chapter has been selected as the Family, Career and Community Leaders of America, 2022 Financial Fitness Runner-Up Winner. We commend your efforts in helping other youth become strong family members and leaders now and in the future. We are pleased to award your chapter with an engraved plaque and $500, which will be awarded and formally announced during the National Leadership Conference in San Diego, CA Thank you Montana FCCLA Montana Financial Education Coalition, First Interstate Bank, Montana Council for Economic Education and Reach Higher Montana for the Count Me In Grant funds to carrier out our project! and Message Number 2 Congratulations! Your chapter has been selected as the Family, Career and Community Leaders of America, 2022 Montana FACTS Award Winner. We commend your efforts in helping other youth make informed, responsible decisions about traffic safety. We are pleased to award you with the FACTS State-Level Award of $500, which will arrive to you by check in May 2022. This award is made possible thanks to the generous sponsorship of Ford Driving Skills for Life and the Governors Highway Safety Association (GHSA). Must say we are honored and surprised. Thank you Montana FCCLA and Montana Department of Transportation and Ford Driving Skills for Life who offer grants to Montana high school for Traffic Safety Projects

PROM 2022!!!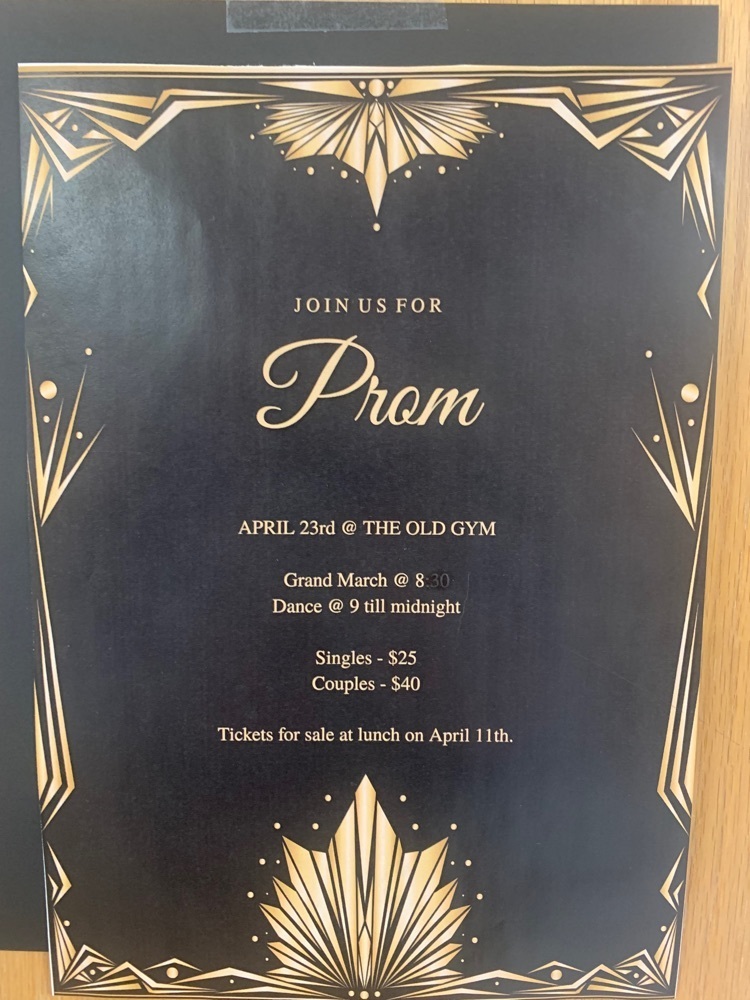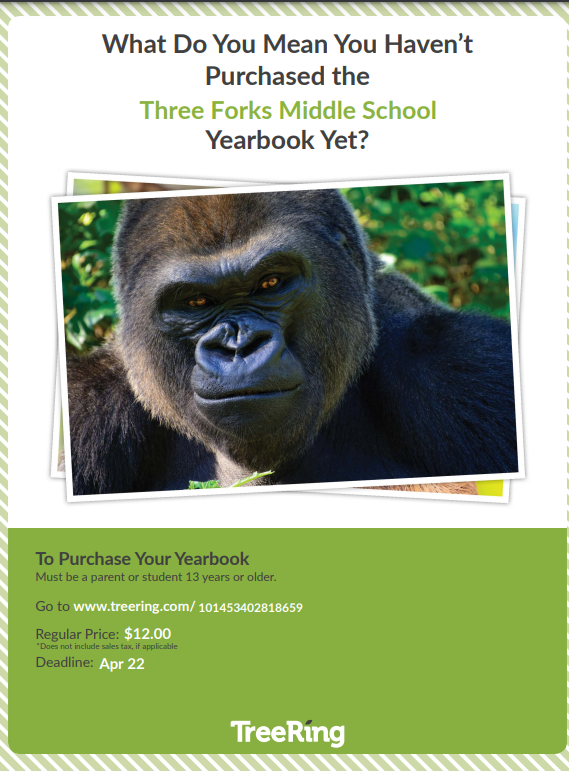 The Career & Technical Education (CTE) Department at Three Forks Schools is seeking feedback, input and commentary from students, parents, guardians, community members, business owners and industry leaders related to the course offerings available to our students. We invite all to click the link below and thank you in advance for contributing.
https://forms.gle/jdvoVsgu2ujsUuRa9

Reminder to parents of next year's 9-12 graders: We will be holding an informational meeting about our dual credit and AP course offerings on Thursday, April 21st at 5:30 in the high school library. Please plan to attend to hear about the great opportunities we have to offer our students. See the attached document for a program overview.
https://drive.google.com/file/d/1APkHpbeU4zO8YJEs698MbIL4luI2EgdJ/view?usp=sharing

Get excited! Three Forks is participating in a dynamic, hands-on, civic education program for students in Washington, DC in the spring of 2023! To learn more about the trip, there will be an informational meeting on April 28th at 5:30pm to discuss cost, trip dates, fundraising, and other program logistics. If you are unable to attend the meeting, please feel free to contact Miss Van Beek or Mr. Murdoch by email. Please visit
www.CloseUp.org
to learn more about Close Up. Miss Van Beek-
mvanbeek@threeforks.k12.mt.us
Mr. Murdoch-
wmurdoch@threeforks.k12.mt.us



With the current wind conditions and drifting snow, some of our bus routes may experience delays. District administration will be in close contact with our drivers and Transportation Director to monitor the situation.
Reminder of the winter sports banquet tomorrow night (Tuesday April 12th) at 6:00 pm. We will be serving Pizza and dessert.